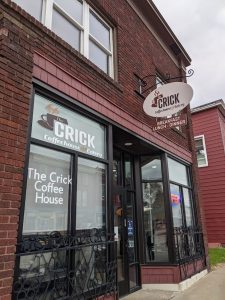 146-150 Main Street West :: Val and Dan Mininger
Val Mininger, owner of the Crick Coffee House and Eatery as well as a dual commercial storefront in Girard, has made the revitalization of Main Street a personal mission: "Running a coffee shop was never something that I really wanted to do; I'm a licensed social worker, I have a law degree and I was working for UPMC Insurance, but Girard needed something and we started to look at what we could do here to provide some hope."  One week after she and her husband, Dan, experienced a heartbreaking family tragedy, they purchased the storefront that would become "The Crick." They felt called to make a difference in their community and to work towards creating the kind of downtown that helps everyone feel welcome.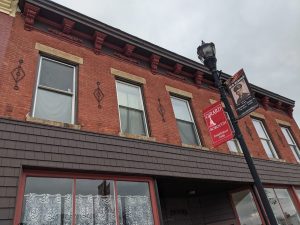 In 2017, the Miningers purchased the property at 236 Main Street West and received the building permit for improvements there the same day they took possession of the commercial/apartment buildings comprising the addresses 146-150 Main Street West.  It was all a whirlwind for a while, with construction happening in two buildings, trying to get multiple businesses off the ground, all while dealing with their own grief, but it helped to keep Val and Dan busy and focused on their projects. While the bulk of the construction work they completed was at their 236 Main Street West location, in order to convert the property into a working cafe, it was their property at 146-150 Main Street West where they were able to utilize the Facade Improvement Grant Program provided by Girard Borough, to lighten their list of projects to complete.
This Facade Improvement Grant Program is funded with the Mission Main Street Grant from ECGRA, to property owners within the designated downtown boundary (Main Street from the east borough line to Old Ridge Rd and Rice Avenue from Main Street to Vine Street).  These grants are provided for approved exterior improvements and are funded by the Borough at a 50% match basis.  This means that eligible property owners end up paying half of the total cost of their exterior projects and funding can be matched from as little as $200 all the way up to $10,000.
Val Mininger serves on the Girard Borough committee that helps facilitate these grants to property owners and she sees their effects in action every day:  "We did our building first, and then we saw other building owners start to fix up their properties, either with the facade grants or just on their own, and we felt like it was this trickle effect.  All the businesses really stepped up and started doing what they could.  And with the grant program, it is a match, so even if you don't have a lot of money to start with, you can start with something small.  Maybe you only have $500 to spend, but that turns into $1000 which can make a real difference."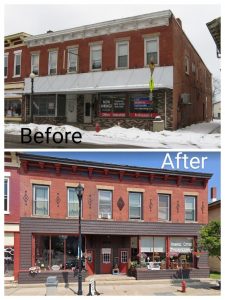 While the Mininger family weren't able to apply for grant funding for the facade work on the Crick Coffee Shop building, due to the timing of program eligibility, they were able to utilize some of that facade grant funding to fix up their commercial storefronts/apartment building at 146-150 Main Street West.  They applied for and received grant funding to replace windows in the second floor apartments, they replaced some siding and had the decorative Commercial Italianate brackets repainted from solid white to richer colors that enhance their historic detail.
A few small changes have made a big difference to this dual storefront, where one side is currently being rented by Periwinkle's Cottage Consignment Shop and the other side is being converted into a non-profit community resource to be called "Jake's Place and Free Store," named for and inspired by the Mininger's late son, Jake.  Val explains: "the Free store is for anyone who needs it: hygiene products, cleaning supplies, beauty products.  There are no income guidelines, anyone can go in.  Then 'Jake's Place' itself will be a place for any young adult who needs help: we'll have laptops set up so they can do a job search or apply for food stamps, we'll hold AA and NA meetings here. Or it can just be a place to hang out where they know somebody cares about them."
And now, since the removal of the Girard Hotel, their Crick Coffee House building is the first view people visiting Girard from the west see, which now qualifies the side of that building for future facade grant eligibility, and they plan to take full advantage of any upcoming grant funding availability.  Val and Dan are thinking of having a sign or mural installed along the exterior wall, or adding in additional landscaping around their outdoor seating, to help beautify that first glimpse of Main Street.
The Miningers have already made massive investments into Main Street and have created spaces that truly belong to the entire community.  The Facade Grant Program helped them to achieve one of their goals: to be an inspiration to the other business and property owners on Main Street to do what they can to make Girard as beautiful and prosperous as possible. "We travel a lot and go to a lot of small towns with Main Streets and every shop is always full and busy.  We need to have that here and there's no reason why we shouldn't. So we tried to do something different that could also then act as a starting point, and that would bring people, not just from Girard, but from other places.  People won't come to Girard for one consignment store, or one little gift shop, but they will come to walk the whole street and stop in each place." The Miningers hope that the Crick Coffee Shop and their eventual "Jake's Place and Free Store" can be a part of that community experience that brings visitors, excitement, and hope to Main Street Girard.